About SERVPRO of North East Chester County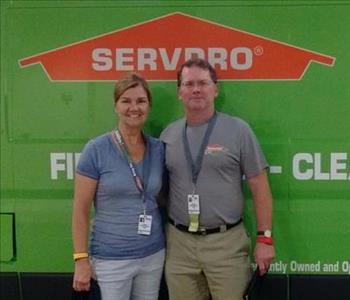 Michael J. Andris, Michael Andris, Jr., Monica P. & Laura A. & Christopher Andris
Owners of SERVPRO of North East Chester County
SERVPRO of North East Chester County is a family-owned and operated business that instills the same values and work ethic in our team that governs our family dynamic. Having experienced water losses in our own homes, we understand how a fire or water damage can disrupt your normal routine, your life, and your home or business. We are dedicated to getting the job done right, the first time, to mitigate your loss and restore your peace of mind. Our number one focus is to restore your home or business to pre-loss condition correctly, safely, and efficiently make it "Like it never even happened."

SERVPRO of North East Chester County offers core lines of business in mold remediation, general cleaning (including carpet cleaning and duct cleaning), water damage restoration, and fire damage restoration. Our focus is on YOU: the home or business owner that finds themselves in a likely new situation that you certainly did not plan for and may not know how to navigate. We take the time to fully explain your unique situation from a technical standpoint and explain why certain measures need to be taken to address the needs of your loss. We can help guide you through the often-confusing challenges associated with handling a loss from every aspect, including acting as a liaison with your insurance adjuster or other clients. We always bring a personal, customer service-oriented attitude, as we appreciate being able to assist you through what may be difficult times.

Our family takes pride in education and knowledge, so our staff is highly-trained in property damage restoration and takes pride in customer service. Education, knowledge and training is also a foundation of SERVPRO as a whole, which required an immersive, three-week initial training program for our Owners prior to even opening our doors. We share this approach with each member of our Team, investing in ongoing training and IICRC Certifications, as we are an IICRC-Certified Firm. No job is too small for SERVPRO of North East Chester County to tackle, and in working with our Corporate resources and neighboring Franchises, no job could ever be too large for us. We service Phoenixville, South Pottstown, Spring City, and other neighboring areas. When you call SERVPRO of North East Chester County, you are leveraging the knowledge and resources of the premier restoration company: a network of excellence and restoration support, built to serve you!

Please call us today at 610-948-2141 if you are in need of immediate service for your home or business or even if you just are not sure and need some guidance and questions answered!

SERVPRO has been the #1 restoration and cleaning brand since 1967 – building a strong, fundamental base of trust and cooperation within our local communities - and SERVPRO of North East Chester County is your local, family-owned and operated restoration franchise: ready to serve.
Insurance and Payment Information
For a stress free claims process, SERVPRO works with your insurance to help manage the insurance process and paperwork.
We also accept the following credit cards for your convenience:





Certifications
AMRT - Applied Microbial Remediation Technician
ASD - Applied Structural Drying Technician
ECTP - Employee Certification Training Program
IICRC Certified Firm
RRRP - Lead-Based Paint Activities and Renovation
WRT - Water Damage Restoration Technician
Affiliations
CCAP - County Commissioners Association of Pennsylvania
FEMSA - Fire and Emergency Manufacturers and Services Association
HAP - Hospital Association of Pennsylvania
NARPM - National Association of Residential Property Managers
PA Coroners Association
PALA - Pennsylvania Assisted Living Association Industry Partner
PAMIC - Pennsylvania Association of Mutual Insurance Companies
PAPHCC - Pennsylvania Association of Plumbing, Heating, and Cooling Contractors
PASBO - Pennsylvania Association of School Board Officials
PCPA - Pennsylvania Chiefs of Police Association
PFDA - Pennsylvania Funeral Directors Association
PFESI - Pennsylvania Fire and Emergency Services Institute Corporate Benefactor Partner
PHCA - Pennsylvania Health Care Association Partners Club Platinum Sponsor
Phoenixville Chamber of Commerce
PSBA - Pennsylvania School Board Association Corporate Partner
Spring-Ford Chamber of Commerce
Awards
Director's Gold SERVPRO Industries