How to Tell if You Must Replace My Carpet After a Flood?
1/5/2022 (Permalink)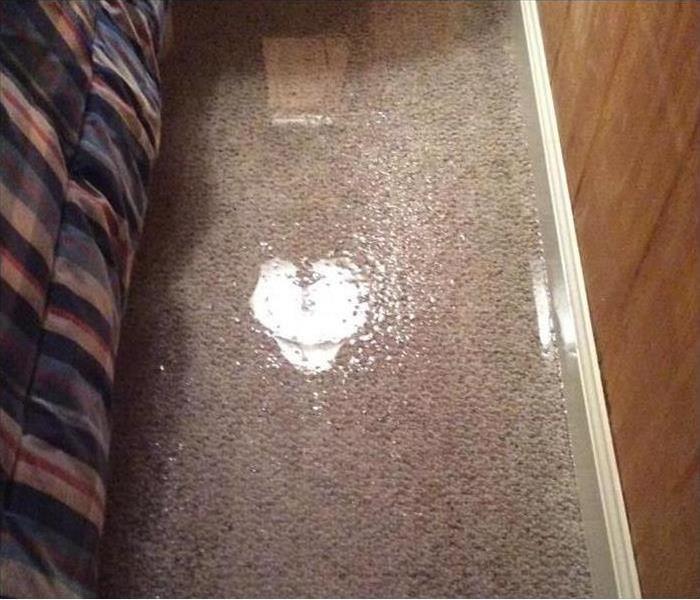 Is water damage present in your home? Call SERVPRO for all your restoration needs. Our crew is always available for you!
How Can I Tell If My Carpet Needs to Be Replaced After a Flood?
Water damage can come in various levels of severity and size—from a pipe break dribbling water into a wall, to excess rain flooding an entire basement. Regardless of the issue, you may have to repair or replace parts of your home. If you're not sure whether the floorings needs attention, pay attention to warning sides that it's time to tear out your carpet and lay down something new.

The Solutions

If water finds its way onto your floor, you have a few options to remedy the situation. Minor issues require a quick fix, while more widespread flooding will deem a complete replacement. Here the possibilities when a pipe break or other water problems damage your flooring:
Hand-dry the floor with towels.

Dry the floor with towels and blow-dryer.

Clean the carpets with professional-grade machines.

Replace the carpets.
When to Replace: Black Water

Raw sewage flooding is perhaps the worst type of flood you can experience in your Spring City, PA, home. A sewer backup or major toilet leakage could send dangerous microscopic pathogens into your home. Known as black water because it contains human feces, this flood water can harm or even kill you. This will require complete restoration.

When to Replace: You Didn't Immediately Discover the Water

If you can detect a leak or other water issues quickly, you can often salvage carpet, drywall or other parts of your home. However, if the flooding starts while you're not at home, and water sits on the floor for days or even hours, you probably won't be able to save the flooring. There will be too much saturation, and you should call a professional cleanup company to tear out the carpets.

There's no reason to take chances when it comes to a pipe break and significant flooding in your house. If black water or standing water infiltrates your carpet, plan on letting a professional replace it.