Cleaning Water From a Wood Floor Helps Prevent Major Damage
3/8/2022 (Permalink)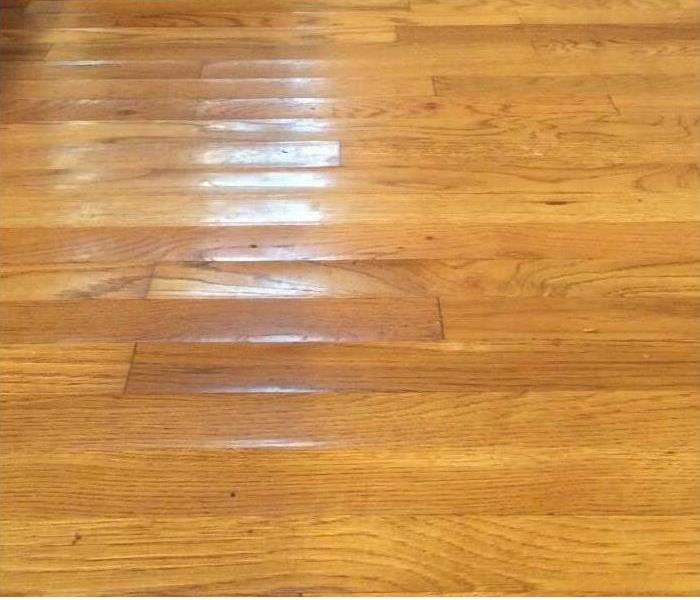 Sometimes SERVPRO can save hardwood floors and sometimes they need to be removed and replaced. Call us before it's too late.
Cleaning Water From A Wood Floor Aids in the Prevention of Major Damage
Water and wooden floors in your Charlestown, PA, building don't mix well. After a leak, pipe burst or flooding in your facility, it doesn't take long for damage to set in on your hardwood flooring. It's critical to clean up the water as soon as possible to avoid replacing the wood.
Cleanup Equipment

To get started cleaning up a wet floor, you'll need:
Shop vacuum

Brush with stiff bristles

Squeegee

Absorbent cloth

Rubber gloves

Bucket

Mild detergent
Removing the Water
Time is of the essence when cleaning up a wood floor. Fibers in the wood will begin to absorb moisture quickly but release it slowly. Begin by using the shop vacuum and squeegee to draw out as much water as possible. Scrub the floor with detergent and a stiff brush to remove as much dirt and mud as you can. This process will help prevent mold growth, as mold thrives in moisture and feeds on organic material in the dirt. If the flood or pipe burst has already caused mold growth, a restoration company can mitigate damage.

Drying the Floor

Begin the drying process by increasing airflow. Open doors and windows and use fans to move fresh air throughout the space. Try putting a fan in a window or open door, then opening doors or windows on the opposite side of the room. This creates cross-ventilation to move moisture out of the area.
It's essential to dry the wet floor slowly and avoid applying heat. Wood that dries too quickly or is exposed to a heater can crack or split.

Refinishing the Floor

If your wood floor has minor warped or cupped areas, you can use a drum sander to repair them. Boards with heavy damage will need replacing. If floorboards are lifted at the ends, you can face-nail them back in place.

Cleaning up quickly after a pipe burst or flood in your Charlestown, PA, facility can help you avoid major issues down the road.